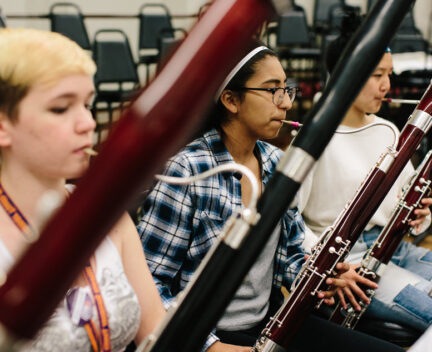 Program Description
Designed primarily for high school aged oboe students, this program focuses on strengthening the fundamentals of technique and musicianship including; orchestral excerpts, reed-making, college audition preparation, warm-up exercises, technical development, masterclasses, group lessons and individual practice. Students will be exposed to a wide range of repertoire and gain perspective in all aspects of oboe practice and performance.
Pre-College Oboe & Bassoon
Eligibility
For students completing grades 8-12.
Typical Daily Schedule
8:15 – 9:15 am: Individual Practice
9:30 – 10:30 am: Reed Making Class
10:45 – 11:45 am: Chamber Music
12:00 – 1:00 pm: Lunch
1:15 – 2:15 pm: Ensemble Rehearsal/Workshops
2:30 – 3:30 pm: Master Class
3:45 – 4:45 pm: Electives
5:15 pm: Dinner and Evening Activities
10:30 pm: Lights out
Tuition
Resident – $850 (tuition, room and board)
Commuter – $550 (tuition and lunch only)
Faculty