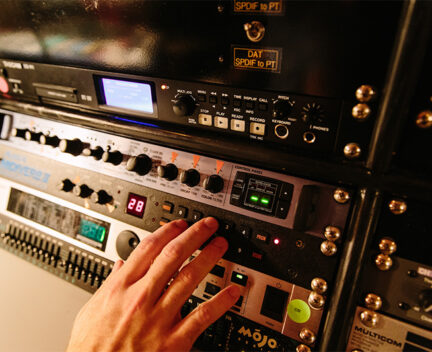 Program Description
The Introductory Music Technology program is designed for students who have a budding interest (but little to no prior experience) in songwriting, music production, electronic music, and audio-related technology. The course curriculum is designed to introduce the fundamentals of audio recording, editing, creative processing, electro-acoustic composition, and live presentation of music online. Students will complete short assignments toward a small-scale creative project using common freeware and a flexible assortment of available resources in a remote setting.
Introductory Music Technology
Eligibility
For students completing grades 8-12.
For students interested in getting started with music technology.
No prior experience in music technology or music creation necessary.
Students must have access to a computer (macOS or Windows).
Students should have decent quality earbuds, headphones, or speakers for playback (better than built-in computer speakers is preferable).
Typical Daily Schedule
8:15 – 10:30 am: Techniques & Concepts
10:45 – 11:45 am: DIY Sessions
12:00 – 1:15 pm: Lunch
1:15 – 2:15 pm: Listening/Discussion
2:30 – 3:30 pm: Electronic Music-Making – Free Exploration
3:45 – 4:45 pm: Electives
5:15 pm: Dinner and Evening Activities
10:30 pm: Lights out
Tuition
Resident – $850 (tuition, room and board)
Commuter – $550 (tuition and lunch only)
Faculty